Welcome to our Student Teacher Apprenticeship Program! Hand-picked intermediate-advanced students ages 12-adult who have been accepted after a process that includes a written application and interview coaching session are available to work one-on-one with beginners currently enrolled in our Twinklers, Fireflies, and Sparklers classes.
Our Student Teacher Apprenticeship Program offers a perfect balance of freedom and support. Student teachers are provided with goals, suggested lesson plans, and information about their student's skill levels in various areas. Get in touch to schedule a coaching session today!
Our Student Teachers
Lily Matalon - violin and viola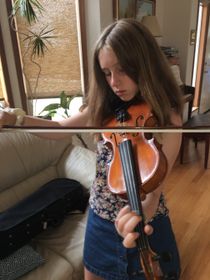 Lily is in 8th grade at Herbert Slater Middle School. Lily was 6 years old when she began studying the violin with teacher Liz Erickson. Her first violin was a 1/8 size violin. Lily enjoys playing a variety of music, especially the fast, happy beat of Celtic music. Her interests include: reading, Spanish, Hebrew, science, music, dance and spending time with family and friends.
Emma McCallum - violin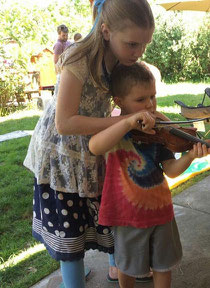 Emma is on hiatus while globe-trotting. Bon voyage!